Youtube film on chess fresco in Täby, Sweden
published at 17 March 2018




---
Merry Christmas
published at 23 December 2017


---
A travel guide for chess lovers
published at 17 November 2017

I'm very happy to inform you that I have published my first book!
I'm very sorry to inform you that it is in Dutch language.
The format of the book is A5 paperback, it counts 328 pages, describes over a hundred places which might be interesting for lovers of chess culture, contains many pictures and costs € 19,95.
Too bad I can't hear you pronounce the title...


---
Variation on Tarrasch
published at 12 August 2017

"Chess, like gunfire, like love, has the power to keep men quiet." (D.M. Spackmann)


---
Chess Master Works
published at 3 August 2017

Another book for your coffee table has been published recently. It is called Chess Master Works - Rare and beautiful chess sets of the world. Editor Dylan Loeb McClain presents a load of excellent chess sets from the collections of Crumiller and Dean a.o.


---
Thanks to Morten Lilleøren
published at 20 July 2017

Chess collectors are sometimes competing against eacht others in order to acquire much desired collector's items. However, many times they help each other as well. I experienced a nice example of that second option when Morten Lilleøren sent me an e-mail with information where to find Chess and Allegory in the Middle Ages van Ferm & Honemann (eds.) for which I was looking.


---
Relaxed Chess-reading
published at 7 July 2017




Two titles that have been published in 2016 already, but did not get the attention here that they deserve. Excellent books for your holiday!


---
Precious collector's items
published at 29 June 2017

These entry tickets for Groningen 1946 are hard to find. For years I have been searching for them. Recently I managed to buy not only one but even three. On the picture you can see that they are different. Even the tickets in the middle and to the right are not the same. The black ink hides two different amounts, f2,50 and f25 respectively. If you have any idea why these different amounts are covered with black ink (lottery??) please let me know.


---
An interesting archeological find
published at 13 May 2017

During infrastructural renovations in Moscow a 16th century chess piece has been found. Not extremely special if it was not filled with 10 silver coins. I'm curious if they will find the other 31 pieces and if they will be filled with silver coins too. The source is in Dutch but you can at least see a picture.


---
Remembering the Second World War
published at 4 May 2017

At this day the Dutch people commemorate the victims of the Second World War. Tomorrow we will celebrate the liberation of our country from the German occupation. Below is a hollow chessboard which was used by the Resistance group of Joop Westerweel to hide documents.


---
Meeting of Dutch chess collectors
published at 10 April 2017

The Dutch group of chess collectors Motiefgroep Schaken will hold a meeting at Saturday 22 April in Ermelo.
The location is Centrum De Baanveger, IJsbaanweg 45, Ermelo. Non-members are also welcome. You can visit this meeting from 9am until 5pm.


---
Did Genghis Khan play chess?
published at 16 March 2017

Maybe. At least you can see a Mongolian chess set and a few loose chess pieces of porcelain at the exhibition Genghis Khan in the National Military Museum at Soest, The Netherlands.


---
Magnus
published at 15 February 2017

It would surprise me if you hadn't seen the documentary Magnus yet. The film shows Magnus Carlsen from his childhood until his win of the world chess championship. Most interesting are the home videos made by the Carlsen family. They show that Magnus was as a child already very special.


---
Persian wisdom
published at 2 February 2017

"If a ruler does not understand chess, how can he rule over a kingdom?" (Persian King Khusros II)

---
Tata!
published at 13 January 2017
Today starts the wonderful Tata Steel Chess Tournament. Yours truly will be the representative for New in Chess at the book stand in Café De Zon. I hope to meet you there!


---
A floating chessboard
published at 4 January 2017

In the Dutch living museum Archeon a merchant's house has walls decorated with a knight chasing a floating chessboard. The story comes from a Dutch medieval romance Roman van Walewein.


---
Best wishes
published at 21 December 2016


---
Chess paintings (5)
published at 3 December 2016

At the Drents Museum in Assen, The Netherlands, they exhibit a painting with a chess motive. You can easily notice the chess board and pieces at Selfportrait by Nico Heilijgers, 1990.


---
Chess paintings (4)
published at 20 November 2016



Cornelis de Man
The Chess Players
1670


---
International meeting of chess collectors
published at 29 October 2016

The Dutch group of chess collectors, the Motiefgroep Schaken, organizes an international meeting at 12 November 2016 in Deurne (NL).

Non-members are also welcome.

Programme:
09.00 - 11.00 Trading chess collectibles
11.00 - 12.00 Presentation by Bas de Haas
12.00 - 12.15 A small gift is presented to all visitors
12.15 - 13.00 Lunch
13.00 - 15.00 Auction of chess collectibles
15.00 - 17.00 Trading chess collectibles

Location:
Sociaal Cultureel Centrum Den Draai
Blasiusstraat 2
5754 AV Deurne
The Netherlands


---
A very rare and curious chess movie
published at 13 October 2016

The movie Partita immortale is a very curious and not extremely successful attempt to integrate the immortal game between Anderssen and Kieseritsky into a story. This Italian movie by Donato di Pasquale has English subtitles. It is clear to me now why it is so rare...


---
Psychology in chess?
published at 8 October 2016

I don't believe in psychology. I believe in good moves. (Bobby Fischer)


---
Rocket chess set
published at 20 August 2016

In the German town of Peenemünde, where the V-rockets were developed during the Second World War, you can find a chess set with rockets as chess pieces. In the Historisches-Technisches Museum to be more precise. Here's a picture provided by Lucas Rossing & Liesbeth Breek:


---
Zweig's Chess story now as a comic book
published at 15 July 2016

The French comic book artist Thomas Humeau created a comic book version of the most famous chess novel. The fact that it is in French is a little disadvantage, but still it is very interesting. Thanks to Ruud Aalbersberg for this suggestion.


---
The greatest chess warrior has died
published at 8 June 2016

Viktor the Terrible, the man who fought the complete Soviet imperium in the 70s and 80s of the 20th century is no longer with us. Viktor Korchnoi, Rest In Peace!


---
A new magazine for chess and board game history
published at 17 May 2016

And the name of this new magazine is Caissa. In this magazine you can find articles in German and English language. The editing is in the hands of Dr. Mario Ziegler. Thanks go to Siegfried Schönle and Bab Wilders for informing me about this magazine.


---
Another chess novel added to the list
published at 20 April 2016

Never seen it before but actually the chess novel Three friends by Myron Levoy was already published in 1984.


---
Kortchnoi about his colleagues (and himself)
published at 1 April 2016

No chess grandmaster is normal; they only differ in the extent of their madness. (Viktor Kortchnoi)


---
The Chess Olympiad of 1939
published at 23 March 2016

The most intriguing Chess Olympiad must be the Buenos Aires Chess Olympiad of 1939. At the end of this event World War II broke out. Many of the participants remained in South-America; the most well-known of them Mieczyslaw (Miguel) Najdorf.

Justin Corfield wrote a book about this Chess Olympiad and its aftermath: Pawns in a greater game.


---
Some more chess pottery
published at 9 March 2016

This ashtray was probably made for a chess tournament in 1973 at Leeuwarden (NL).


---
Chess is ...
published at 2 March 2016

Chess is ruthless: you've got to be prepared to kill people. (Nigel Short)


---
Euwe in Delft blue
published at 24 February 2016

Euwe was the only Dutch World champion in chess. His reign was from 1935 until 1937. To commemorate Euwe's success many items were manufactured, even plates of Delft blue. After a hunt of many years I now own one of these plates.


---
Paul Keres depicted on money again
published at 9 February 2016

The Estonian chess legend Paul Keres was already depicted on an Estonian banknote, but now he is also depicted on their 2-euro coins.


---
Selling chess books in Wijk aan Zee
published at 15 January 2016

The great Tata Steel Chess Tournament is about to begin. I will be selling chess books for New in Chess in chess café De Zon which is close to the playing hall. On all days from Saturday 16 January until Sunday 31 January, except on Thursday.


---
Merry Christmas and a Happy New Year
published at 18 December 2015


---
Bauhaus chess set
published at 29 November 2015

One of the greatest designs of chess pieces must be the Bauhaus chess set by Josef Hartwig. There is a small book about this design: Das Bauhaus-Schachspiel von Josef Hartwig/The Bauhaus chess set by Josef Hartwig, written by Anne Bobzin & Klaus Weber (2006).


---
An original Dutch cartoon on Fischer
published at 23 November 2015

This cartoon was made by Gerrit Dekker, to be published in some newspaper. I still have to figure out the details, but it was probably published just before the beginning of the match, or when Fischer did not show up for the second game.


---
Two new interesting chess books
published at 25 October 2015




A new general work on the history of chess has come out. The history of chess in fifty moves is written by Bill Price. It is pleasant to read and illustrated abundantly.

And there is a another new book on the Lewis chessmen. Nancy Marie Brown is convinced she can still add to all the theories about the most intriguing set of chessmen. She thinks she may have identified the person who manufactured these Ivory Vikings: a female Icelandic artist...


---
Great KWA meeting in Kiel
published at 16 October 2015

At October 10th a meeting from the Ken Whyld Association, an association of chess historians, took place in Kiel, Germany. In Kiel is the Schleswig-Holsteinische Landesbibliothek, a library that contains the largest public collection of chess books from Germany.

Thanks to Messrs. Ahlers, Saremba, Schönle, Skjoldrager, Gillam and Van Habberney it was a very interesting meeting. On the picture below a few of the chess treasures from Kiel that were on display.




For more information on the Ken Whyld Association please visit www.kwabc.org


---
James Bond plays chess
published at 5 October 2015

In the new James Bond movie Spectre it seems that 007 also knows his way on the chessboard. However, if we examine the position closely... Time to replace Daniel Craig as Bond.


---
World Chess Hall of Fame
published at 13 September 2015

There are several chess museums in the world. One of them is the World Chess Hall of Fame in St. Louis, United States. They are very active as you can see from the fact that they have no less than three chess exhibitions at this moment:
• Battle on the board - Chess during World War II
• Marcel Dzama - Mischief makes a move
• Encore! - Ivory chess treasures from the Jon Crumiller Collection




Find out more at http://www.worldchesshof.org/
---
New movie on Bobby Fischer
published at 4 September 2015

The title of this movie is Pawn Sacrifice. Starting at 16 September 2015 in New York and Los Angeles the movie will be in the American cinemas first and come to Europe later.


---
Angel with chessboard in the cathedral of Le Mans
published at 30 August 2015

At the ceiling of the Chapel of the Virgin in the St. Julien cathedral in Le Mans, France, there is this beautiful angel with a chessboard.


---
Original manuscript of J.H. Donner
published at 21 July 2015

From my lovely wife I got the original manuscript of an article, Panic by J.H. Donner that can be read in what I consider one of the best chess books ever written: The King.


---
"A swift moving thriller told with unusual ability"
published at 22 June 2015

That's what the dustjacket of The Black Company by W.B.M. Ferguson says about this book. One might agree or not, but it is for sure that chess plays an important role in this book.


---
Chess movie: The Dark Horse
published at 13 June 2015

An interesting movie about a former speed chess genius with a mental disorder who starts a chess club for disadvantaged children. His name was Genesis Potini (1963-2011). Director of the movie is James Napier Robertson.


---
First stamp with chess motive
published at 10 June 2015

The first chess stamp was issued by Bulgaria in 1947. It was part of a set of 5 where each stamp depicted one of the sports that were part of the Balkan Games.


---
Draw?
published at 30 March 2015



This book reminds me of a hilarious quote I once found on the internet:

After a tense endgame with chances for both sides
my opponent said "Draw"
So I did, and I emptied a clip before his hand even got near his holster.
I guess the moral is he should have played on...


---
Chess and music
published at 4 March 2015

Chess and music collector SftP, better known as Ton F, has an impressive list of album covers with a chess motive. Here are three more for his great list.


---
Magnificent book on the Lewis chessmen
published at 4 February 2015

The Lewis Chessmen - New perspectives
edited by David H Caldwell and Mark A Hall


---
Selling chess books in Wijk aan Zee
published at 7 January 2015

The great Tata Steel Chess Tournament is about to begin. I will be selling chess books for New in Chess in chess café De Zon which is close to the playing hall. On all days from Saturday 10th until Sunday 25th except on Thursday.



picture by René Olthof


---
Wrongly attributed chess quote
published at 3 January 2015

Chess books should be used as we use glasses – to assist the sight; although some players make use of them as if they thought they conferred sight. (Charles Tomlinson)

Thanks to the wonderful website of Mr. Edward Winter I found out that this beautiful aphorism should not be attributed to José Raul Capablanca but to Charles Tomlinson. It was Michael Clapham who discovered the origin of this aphorism.


---
Merry Christmas and a Happy New Year
published at 24 December 2014


---
Chess art in Marrakech
published at 20 December 2014

Ton F. found this beautiful piece of chess art in Marrakech (Morocco).
It was made by Kamal Lahbabi in 2001.



picture by Ton F.


---
Midsomer Murders
published at 7 December 2014

You might wonder why people still dare to live in Midsomer with all these murders. In the episode The Sicilian Defence even some chess players get killed. The motive seems to be chess related. Detective Chief Inspector John Barnaby will of course solve this case.


---
Chess paintings (3)
published at 24 November 2014




Lucas van Leyden
The chess game
ca. 1508
Gemäldegalerie, Berlin (Germany)


---
Meeting of Dutch chess collectors
published at 19 October 2014

Members of the Motiefgroep Schaken, an association of Dutch chess collectors, will have a meeting at 8 November in Bussum. The meeting is organized in cooperation with the Max Euwe Centrum and will be from 09.00 - 17.00

The exact location is:
Denksportcentrum Bussum
Nieuwe Englaan 6
1404 EC Bussum


---
Marcel Duchamp
published at 19 October 2014

Marcel Duchamp: "Chess is a school of silence."


---
Chess paintings (2)
published at 12 October 2014




Sofonisba Anguissola
The chess game
1555
National Museum, Poznan (Poland)


---
Willard Fiske: Chess Tales and Chess Miscellanies
published at 28 September 2014

A great addition for my chess collection is this Fiske book from 1912. It contains many stories, fiction and non-fiction which were written by Fiske while he was editor of Chess Monthly (1857-1860). The book has been published posthumously in 1912.

Fiske was a very remarkable man. For instance, he supported the small island of Grimsey (part of Iceland) with a shipment of wood and all kinds of other necessities. He was intrigued by the fact that these islanders had a passion for chess, although he never set foot on Grimsey. After Fiske's death (1904) he left a considerable amount of money to the inhabitants.


---
Chess and Kickboxing
published at 12 August 2014
"A computer once beat me at chess, but it was no match for me at kickboxing." (Emo Phillips)


---
The Classical Era of Modern Chess
published at 30 July 2014

A new chess historical book from McFarland has seen the light. Peter Monté traces in The Classical Era of Modern Chess the history of the early period of modern chess, roughly from the 15th to 17th century.
For more information see the description on the website of New in Chess, where you could order the book as well.


---
Horrorchess
published at 13 July 2014

Just added to the list of chess movies the horror chess movie Headspace. The movie is from 2005 and directed by Andrew van den Houten. There was simply too much chess in it to ignore it, but it is definitely not my cup of tea...


---
Computer chess
published at 18 June 2014

Computer chess is also the name of a 2013 movie by Andrew Bujalski. It is a comedy, shot in black & white, about the early days of computer chess programming. With lots of nerds and beautiful music by Collie Ryan.


---
Novak Djokovic - Boris Becker
published at 9 June 2014

This was apparently not a succesfull way to prepare for the Roland Garros final for Djokovic...


---
Chess paintings (1)
published at 9 May 2014



Honoré Daumier
The chess players
1863
Petit Palais, Paris (France)


---
A new chess novel
published at 28 April 2014

For those who like to read chess novels, here's another one:
Matthew Reilly - The tournament


---
Happy Easter!
published at 20 April 2014

I'm still searching in the garden for this particular egg:


---
Picture books by Peter de Jong
published at 17 April 2014

Dutch chess collector Peter de Jong has put together two picture chess books; one with portraits of individual chess players and the other with group portraits of participants of prestigeous chess tournaments like they were made in those good old days. The (Dutch) titles are respectively 600 Schaakgezichten and 325 Schaaktoernooien. Don't worry - the books contain only pictures and names...


---
Interesting chess movie: Life of a king
published at 11 April 2014

Directed by Jake Goldberger, 2013, available on dvd


---
Meeting of chess collectors at 5th april in Waalwijk, Holland
published at 30 March 2014

The Dutch group of chess collectors Motiefgroep Schaken will organize their traditional spring meeting in Waalwijk.
Date: 5 april 2014
Time: 9.00 - 17.00
Place: Hotel Waalwijk, Burg. vd Klokkenlaan 55, Waalwijk, Holland
For details visit this website www.euwe.nl


---
Garry Kasparov will visit Tata Steel Chess Tournament!
published at 23 January 2014

During the Tata Steel Chess Tournament I am selling chess books for New in Chess at Wijk aan Zee. You can find me in chesscafé De Zon.

At Saturday 25th Garry Kasparov will visit the tournament and the intention is that he will sign his books. Which you just have bought in my temporary shop of course ;)

The action (?) picture below has been made by Zhaoqin Peng:


---
Best wishes for 2014
published at 25 December 2013


---
Indoor chess set from Napoleon
published at 6 November 2013

Below a picture by Henk Alberts (thanks!). It shows two chess sets that once belonged to Napoleon and are now exhibited at the castle of Fontainebleau.


---
Outdoor chess set
published at 30 October 2013

The hotel Landgoed Ehzerwold at Almen, The Netherlands has a beautiful outdoor chess set.


---
Meeting of chess collectors at 12th october in Deurne, Holland
published at 25 September 2013

The Dutch group of chess collectors Motiefgroep Schaken will organize the so-called Benefralux this year.
Date: 12 october 2013
Time: 9.00 - 17.00
Place: Deurne, Holland
For details visit this website www.euwe.nl


---
Chess set of Tsar Peter the Great
published at 14 August 2013

At this moment there is an exhibition on Tsar Peter the Great in the Dutch museum Hermitage Amsterdam. One of the first exhibited items is a chess set that belonged to him. The exhibition ends at 13 September 2013.


---
Chess sculpture by Vic Gentils
published at 24 July 2013

Until 1 September 2013 you can admire Het Schaakspel (the chess-set) made by the Belgian artist Vic Gentils in 1966/67. You need to travel to Antwerp, Belgium and visit the Middelheimmuseum (Braempaviljoen).


---
Puzzleball chess set at Catherine Palace, Pushkin (Russia)
published at 25 June 2013

Thanks to Truus Pauw I received pictures of this beautiful chess set at the Catherine Palace in Pushkin, a city close to St.Petersburg. Below one of her pictures:


---
Plaque Wilhelm Steinitz at Prague
published at 20 May 2013

Thanks to Henk Alberts I found this plague of Wilhelm Steinitz at Prague.


---
Any suggestions?
published at 8 May 2013

Do you have any suggestions what to visit in Dresden or Prague? Of course I'm searching for places of interest in relation to chess. If you have suggestions please send me an e-mail! Thanks in advance!


---
Ferguson, W.B.M.: The black company
published at 24 April 2013

This title has been added to the department of chess novels. Unfortunately I have not been able to get the Dutch version, which is called De zwarte schakers, into my possession yet.


---
Another book on Bobby Fischer
published at 3 April 2013

During the controversial match Fischer Spassky in 1992 Nenad Stankovic was the personal assistent of Fischer. In The Greatest Secret of Bobby Fischer Stankovic reveals his experiences.




For the German readers of this website I present a picture of a new book on Fischer in German by Dagobert Kohlmeyer: Bobby Fischer Genie zwischen Ruhm und Wahn.




Both books are available at www.newinchess.com


---
My favorite chess personalities
published at 27 March 2013

Viktor Korchnoi
Meindert Niemijer
Harold Murray
Max Euwe
Tassilo von Heydebrand und der Lasa
Hein Donner
Antonius van der Linde
The Turk


---
Absolutely the most uninformative chess quote
published at 16 March 2013

"My style is somewhere between that of Tal and Petrosian." (Samuel Reshevsky)


---
A new book by Genna Sosonko
published at 5 March 2013

The World Champions I knew just came out. After Russian Silhouettes, The Reliable Past and Smart Chip Sosonko presents a new book with great stories.


---
Another chess quote
published at 20 February 2013

"I won't play with you anymore. You have insulted my friend."
Miguel Najdorf, at blitz, when an opponent cursed himself for a blunder.


---
Siegbert Tarrasch about chess
published at 13 February 2013
"Chess, like love, like music, has the power to make man happy."


---
Jeffrey B. Burton: The Chessman
published at 8 February 2013

Another chess crime novel. About a serial killer and a copycat. Cannot say much more about the book without the risk to insult those who value this genre...


---
David Hockney and Man Ray
published at 30 January 2013

The kind Ton van Kempen offered me a picture of a litho by David Hockney. On the litho we see Man Ray with a chessboard. I only knew the famous photo of Man Ray playing chess with Marcel Duchamp on a balcony.


---
Tata Steel Chess Tournament
published at 11 January 2013

Tomorrow the grandmasters start in world's most prestigeous chess tournament. I will be there too almost every day selling books for New in Chess


---
Chess exhibition in Haltern am See, Germany
published at 6 January 2013

The local chess club in Haltern am See celebrates its 50th anniversary with an interesting exhibition. You can visit this exhibition in the Stadtbücherei until 31 March 2013. Below a picture of the book about this exhibition.
---
Happy holidays!
published at 23 December 2012


---
The dream of a piece of checkers
published at 19 December 2012

The Dutch poet, writer, artist and chess player Cees Buddingh' made a funny piece of art called The dream of a piece of checkers (hopefully the translation is correct). This piece of art is at this moment exhibited in the Museum of the Dutch city Dordrecht. Pictures below, please pay attention to square c2.
---
A psychobiography of Bobby Fischer
published at 9 December 2012

Yet another book on Bobby Fischer? Yes, but from a very special point of view. Psychologist Dr. Joseph G. Ponterotto has written a very detailed psychological profile of the phenomenon Fischer.

---
Murray - A history of chess
published at 30 November 2012

At the New in Chess webstore you can buy a reprint of the "bible" of chess history. It is a paperback version for only €19,95. Click here for more information.


---
An English proverb says
published at 20 November 2012

"You may knock your opponent down with the chessboard, but that does not prove that you are the better player."


---
U.S. Elections won by a chess player
published at 14 November 2012

Although the picture may not be convincing it seems that Barack Obama truly is a chess player. Since Mitt Romney isn't I would say the right candidate has been elected.


---
DVD The Prince of Chess for free?
published at 7 November 2012

If you are interested in a free copy of the 2005 documentary The Prince of Chess about Magnus Carlsen have a look here. Don't forget to add the code!


---
Chess aphorism by Marcel Duchamp
published at 31 October 2012

"From my close contact with artists and chess players I have come to the personal conclusion that while all artists are not chess players, all chess players are artists."


---
Chilly Gonzales in Ivory Tower
published at 24 October 2012

The Canadian musician Chilly Gonzales has completed a project in 2010 that consists of a CD and a movie. The movie is about two brothers who compete with each other on and off the chessboard. Main prizes of the competition are a woman and the Canadian national chess title. The title of this movie is Ivory tower and the director is Adam Traynor.


---
Nico Laan - Tower at the Sea
published at 17 October 2012

This looks like a picture of the beach with a rook placed over the picture, probably photoshopped. This is however not the case. The artist Nico Laan drew the rook in the sand and then made a picture using a camera on a kite. A very original work of art!


---
Is it a chess movie?
published at 10 October 2012

Kilos of lead and buckets of blood and every now and then a chess scene, that is Guy Ritchie's film Revolver. Not exactly a cosy family movie. Is it a chess movie? In case of doubt quality must decide. Therefore The Seventh Seal is on my list of chess movies and for the same reason Revolver will remain in the waiting room for now.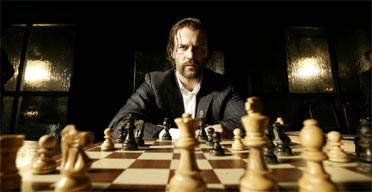 ---
Change of this webpage
published at 5 October 2012
My blog was filled mainly with reactions from spammers. So I decided to remove the blog and replace it by this webpage. This page will be filled with chess news in the same way as before.


---